When I'm out walking with Ted and we encounter someone with a puppy, Ted is always ready to stop to admire "the little fellow." Frankly, puppies are not my favorite things; they have much too much energy, always pouncing at me, so I have to leap back out of their reach.  Whenever Ted stops for one, I "climb" his leg, begging him to pick me up, and of course he does.
Ted says, "That's such a cute puppy!" and the puppy's person stops because everyone likes compliments, especially a new, proud owner. After asking about the breed, commenting on the color, the dog's friendliness and whatever else, Ted invariably brings up the obvious, "I see you're trying to train him," as the puppy is being led from steps to planters to posts, anywhere the owner thinks the puppy might be encouraged to do his business out-of-doors.  Ted asks the person, "Can I offer you a little advice?"
"You and your pup will be living together now for the next ten to fifteen years," Ted says.   "You can avoid a lot of discomfort and inconvenience for both of you over those years if you train your puppy to use wee-wee pads."[1]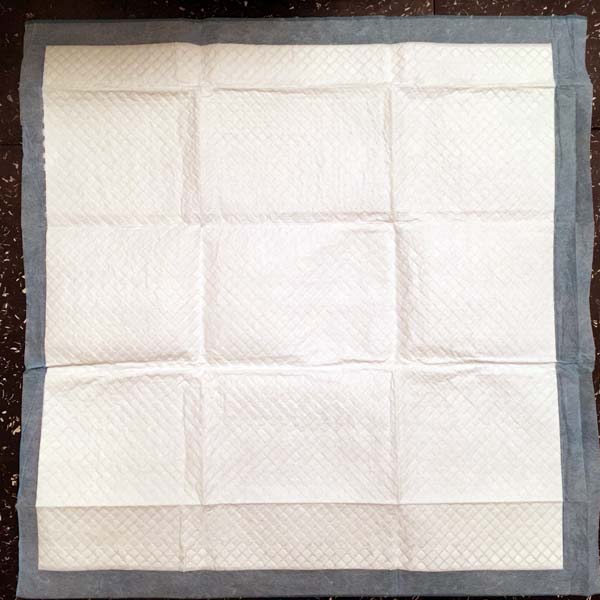 [1] FYI by Ted:  People often refer generically to absorbent pads for housetraining and housetrained dogs by one of their better-known brand names, "Wee Wee Pads," a trademark registered by Four Paws Products, Ltd., Hauppauge NY.  Other manufacturers and retailers sell them under various descriptive names like "puppy training pads," "dog training pads," "housebreaking pads," "training  pads" or, recognizing lifelong use, simply as "absorbent pads" picturing a dog on the packaging.  A long list of brands can be found on Amazon.com in Pet Supplies/dog training pads.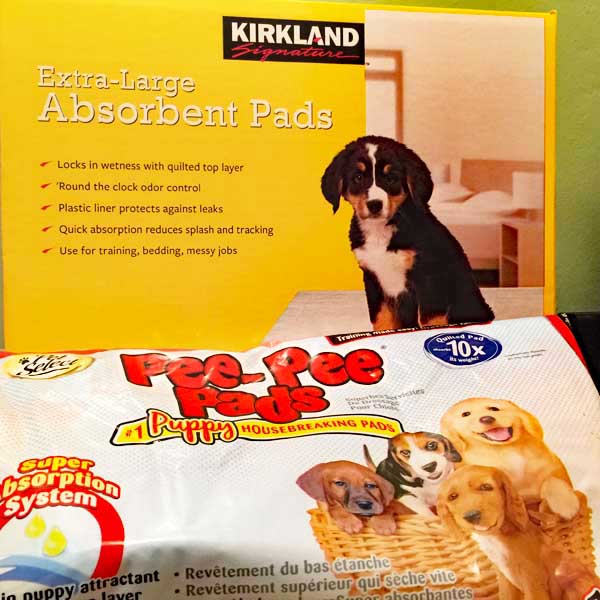 Prices vary according to boxed quantity, but can range from 39 cents per pad (150-count) for Wee Wee Pads® at Petco to, under other brand names, 40 cents (150-count) at PetSmart, 23 cents (100-count, x-large) at Costco and 13 cents (120-count) at Sam's Club.   Note: The warehouse stores also sell similarly-constructed, larger-sized absorbent pads for use under the bed sheets of incontinent elderly people; cut in half, these work out to about 10 cents per half-pad.  It is hard to beat the neatness and convenience of professionally-made pads, but the expense can be avoided entirely by using instead several sheets of newspaper laid flat over a reusable plastic sheet cut from a garbage bag, treated with a bit of "potty here" spray.
Quite often the person answers, "I started him on those indoor pads, but now I've taken them away, because I want my pup to learn to go outside."
Ted tells the person, "Don't remove them. That just confuses him; it's a step backwards and destroys what you've already accomplished.  If you take your dog outside regularly, he'll want to do his business out-of-doors anyway.  It's his nature;  you don't have to worry about that, especially as he gets a few months older.  When he comes outside and smells all the other dogs' markings, he'll want to cover them with his own.  The only thing your pup needs to be trained for is not to do it wherever he feels like it inside the house. That's what the wee-wee pad is for.  It controls where he does it when he has to indoors.
The puppy-owner may object, "I don't want it smelling up the house."
So Ted explains how to avoid that. "First of all, your bathroom is a good place to set down the wee-wee pad.  When your dog uses it, pick it up right away (or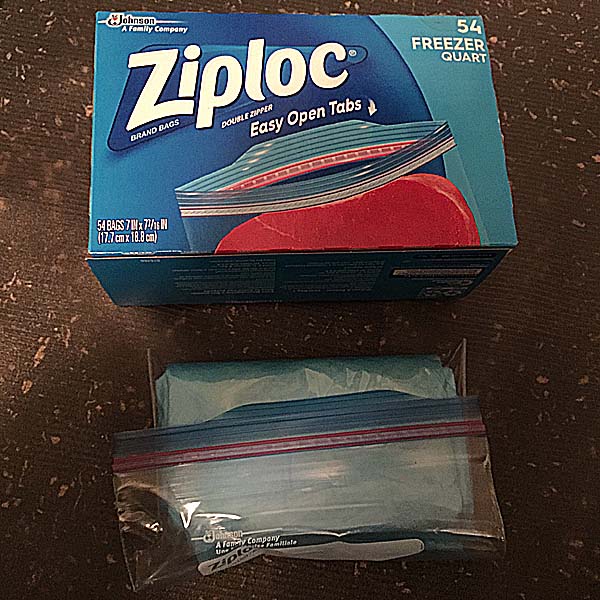 first thing in the morning), and fold it into a quart-size Ziploc®  freezer bag, and toss the thing sealed like that into the garbage.  No chance to smell.  Or, if you want to save money by not disposing of the pad so often, you can spray the soiled spot on it with a pet-odor remover spray (but not until your dog is well-trained to use the pad).  Once your dog is accustomed to his "walks" outside he won't be using the pad that much anyway.  Tobi here uses the wee-wee pad once or twice during the night, but almost never during the day, because I walk him four times a day."
When the puppy-owner remains unconvinced, Ted gets a little more graphic.
"We people all know the discomfort we feel when we need a bathroom and have to wait for one. That's what you're planning to do to your dog every day of his life.  And for a dog it's not just physical pain, but mental and emotional anguish, trying not to be disgraced by what he's been trained to think is 'very bad.'
"That's why wee-wee pads shouldn't just be for training. Once your dog learns to use the pad, he should have it available his whole life, to be there for him whenever there's a problem getting him outside on time.  What happens when you have to work late and you're there thinking of your dog, 'Will he be able to hold it?' Or you're having dinner with friends and would like to stay longer, but you have to leave to walk your dog?   If he were a wee-wee pad-trained dog, you wouldn't have to give it a second thought."
Ted offers other reasons to think about, too. "What about when your dog gets diarrhea?  You'll be cleaning it up all over the house.  But if he's wee-wee pad-trained, you'll simply fold up the pad as often as he soils it, seal it in a freezer bag, and deposit it into the garbage.
"The same is true when your dog gets old. Just as can happen to elderly people, old dogs often become incontinent.  You can resort to doggy diapers, but what do you do when your dog is begging you all hours of the day and night to take him out, despite the diaper—because that's what you've trained him to do?   Compare that to an old, incontinent wee-wee pad dog who just walks over to the wee-wee pad whenever he needs it, and you can sleep through the night in peace.
How many puppy-owners are convinced? Quite a few, maybe, if they think about it.  The alternative is the time-honored custom of "training" a puppy to "go outside," which involves the time it takes for his bladder to enlarge, lots and lots of extra "walking," and discomfort forever.
© Copyright 2015 Woodwrit, Inc.