It has been many years since I learned apartment living; but I'm posting this now as a HOW TO article.
Ted has always bragged that I housetrained in one day. When he brought me home for the first time he had "puppy-proofed" his apartment.  All the scatter rugs were removed, leaving bare the wooden floors in the living room and hall and the tile floors in the kitchen and bathroom, so that if I had an accident he'd be able to see it.  The bedroom and study had wall-to-wall permanent carpeting, so he locked me out of those two rooms by extending window screens across the doorways—which he easily could step over, but I couldn't.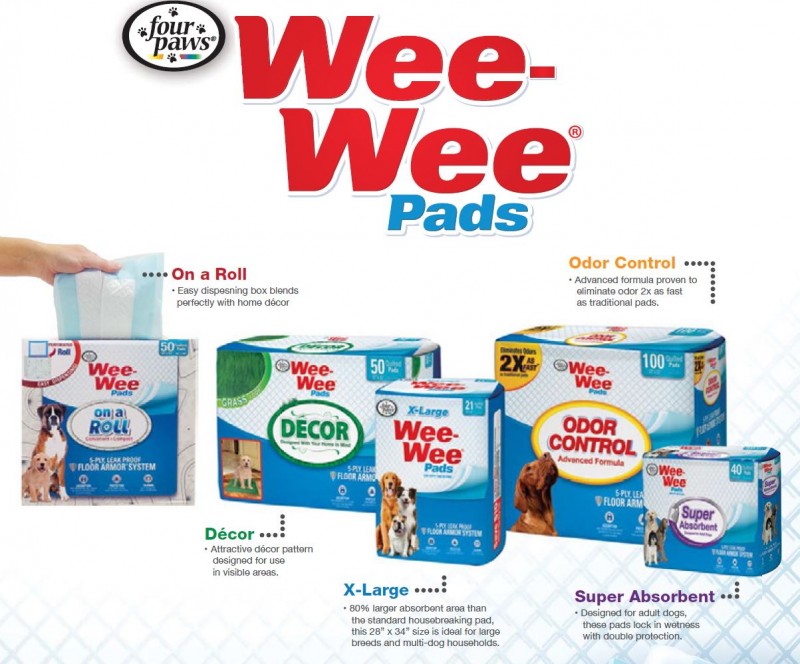 Ted had purchased brand-name Wee Wee Pads® from Petco, because they are "treated to attract puppies when nature calls."[1]   One was spread in a corner of the bathroom where he decided it would work best, out of the way and easiest to clean up on a tile floor if I missed.  He set me on the pad first thing to acquaint me with it; but later when I felt the urge to piddle I was standing at the entrance to the kitchen, so that's where I did it.  Ted cleaned it up with paper towels and a spray named Nature's Miracle® Stain & Odor Remover, also purchased at Petco; and then he placed a second Wee Wee Pad right where I had done it.
I kept going back to the pad at the kitchen entrance for my business. Every time Ted saw me do it, he praised me, "Good boy, good boy, did pee-pee [or poop-ee] on the paper, good boy!"  Ted took me outside, too, but it so terrified me that I didn't do anything there at first.  I used the kitchen pad exclusively over the following days, and received lots of praise for doing so.  I couldn't understand the words at first, but I could tell from the tone and enthusiasm of Ted's voice that I was pleasing him.  Then Ted slowly moved that pad into the hall, then down the hall towards the bathroom; and I followed it.  The kitchen pad ended up right next to the bathroom pad.  Once I was going where Ted wanted me, he left only one pad in the bathroom.
If I missed and piddled in the living room, Ted didn't scare me. He just said "Bad boy, bad boy" with a scowl, then picked me up and set me gently on the bathroom pad and repeated, "Do pee-pee, do pee-pee here."  Nor did he get angry the times I went to the pad, placed my front feet on it, but piddled over the edge because my back feet weren't on it.  Ted cleaned it up, and then repositioned the pad between the wall and a fixture so that there was little room off the edge and I had to plant all four feet on the pad to get onto it.  Ted always adjusted things so I'd get used to doing what I was supposed to do.
Ted was patient. He never lost his temper or scared me when I had an accident, of which there were few because I was drawn by something I could smell in the pad.  In a few weeks I was doing so well that Ted introduced an old carpet onto the living room floor, then watched the experiment carefully.  By that time I didn't try to piddle on it, but it did look like it might be good for chewing.  When I tried, Ted sprayed the edges with a product called Bitter Apple®, and that ended that.  In a couple of months when Ted was sure I was thoroughly trained, he put his good carpets back down in the living room and hallway, and he removed the barriers to the bedroom and study.  I'm glad he did, because my little cat house is tucked into the bottom of a bookcase in the bedroom now, and I keep all my toys in the study where I can't lose them under furniture.
Ted works at home, so he can take me outside four times a day. That's where I much prefer to do my business.  I learned the commands, "Do pee-pee" and "Do poop-ee," both for the pad and outdoors.   I almost never need the wee-wee pad during the day, and usually use it only once or twice during the night.  Ted always disposes of it and puts down a new one first thing.  I'm a smart dog, and so lucky, because I can do bathroom when I need to do it.
© Copyright 2015 Woodwrit, Inc.
[1]
Four Paws: 
http://www.fourpaws.com/FP_Catalog_2014_WEB.pdf
.  At Petco: 
http://www.petco.com/wee-wee-pads
.  At Amazon: 
http://www.amazon.com/s/ref=nb_sb_ss_c_0_12?url=search-alias%3Dpets&field-keywords=wee+wee+pads&sprefix=Wee+wee+pads%2Caps%2C146
.