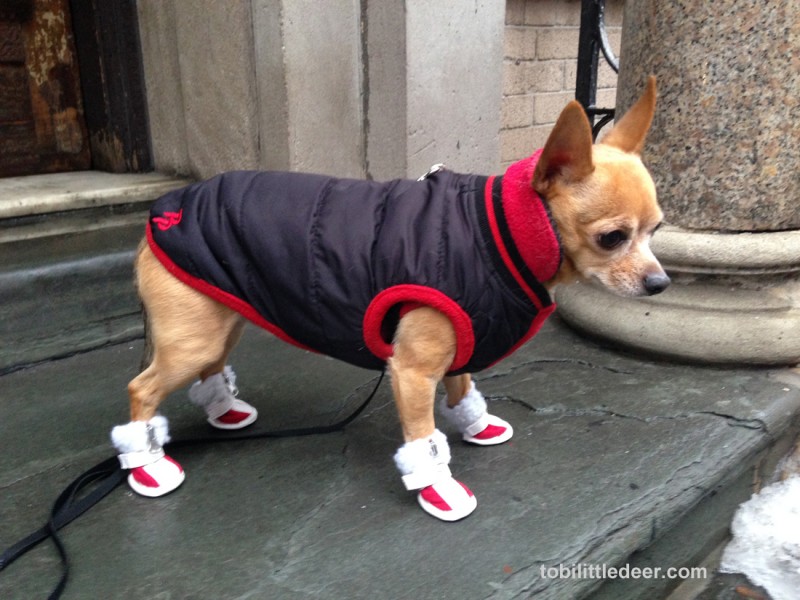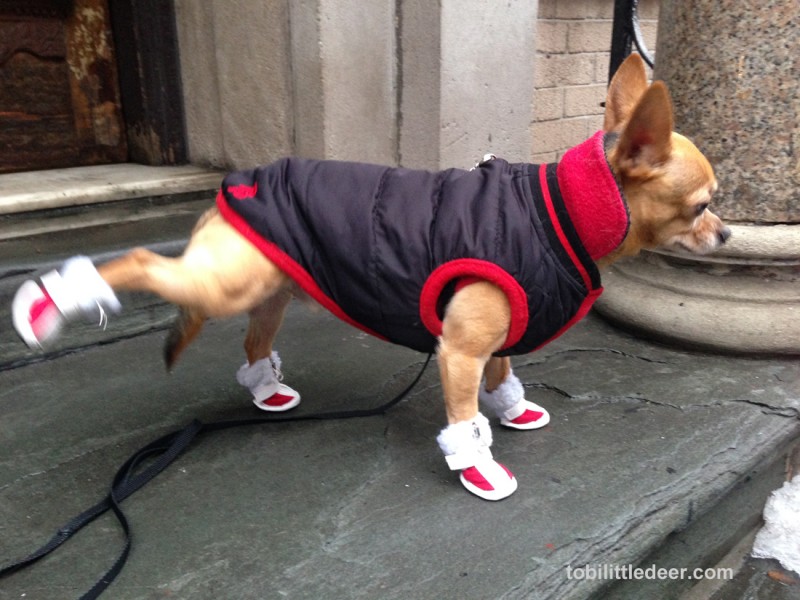 Boots are something to which I've grown accustomed, so I don't make a fuss anymore.  New York City has had a rough winter, very cold with frequent snow, which means lots of salt, so I've gotten plenty of practice with boots. Salt hurts a dog's feet, one way or another.  Bootless dogs do the dance; they stop, lift a foot out of the slush, put that one down and lift another.  It burns.  If it isn't washed off afterwards, it dries out their paws and can make them crack.  They ingest it when they try to lick it off, and that's bad, too.  Nevertheless, you see lots of dogs walking in the salt without boots.  That's because boots can be hard to get on, and too easy to kick off.  What to do? When they get back into the house, dogs who've walked in salt without boots need to stand in a few inches of water in a pan or bathtub to wash it off.  It requires soaping and then a good rinse.  That's why boots may seem troublesome at first, but they save a lot of trouble.  I got used to them.  Your dog will, too, with time and patience. Persevere.  If you're afraid your dog will bite you when you're putting them on, then you need to work on your relationship with him.  It's all about trust.  We dogs react when we don't know what's happening; we're alarmed by new situations.  However, we're ok once we get used to something—we're "creatures of habit."  So the solution to boots, or tooth-brushing or nail-clipping, all the things we resist, is to gently persevere until we grow accustomed to them.  Don't scold or get angry; don't hurt your dog with either the procedure or a punishment.  Stay calm and your dog will grow calm, too.  Our person has to have patience, during every repetition, until we are comfortable.  I'll tell you more about tooth-brushing and nail-clipping another time.  Right now, it's all about boots. I have two types of boots.  The ones I use most often look like little balloons, and can be purchased in most pet stores.  They are a common sight on dogs everywhere now.  The brand name is Pawz, and they are color-coded by size.  I wear yellow.  They are "disposable"—what isn't?—and three sets come in a package—that's twelve boots.  If they're the right size, Pawz boots are pretty impossible to kick off.  They're weightless, so they're easy to get used  to.  The problem is that they're difficult  to get on.  Ted says, "You need two hands to stretch the neck of the boot open, and a third hand to put the dog's paw through it."  Some people buy a size up to make putting them on easier.  It  helps, but then they're bulkier to walk in and could more easily slip off.  Ted's solution was to buy a key ring large enough to fit over my paw.  He stretches the neck of the boot around the key ring.  Then with one hand he holds the boot, its neck held open by the key ring, and with the other hand he inserts my paw through the key ring into the boot, gently pressing my claws together to narrow my paw through the opening.  Once the boot is on, he slips the key ring out of the neck of the boot and off my paw.  It works pretty well.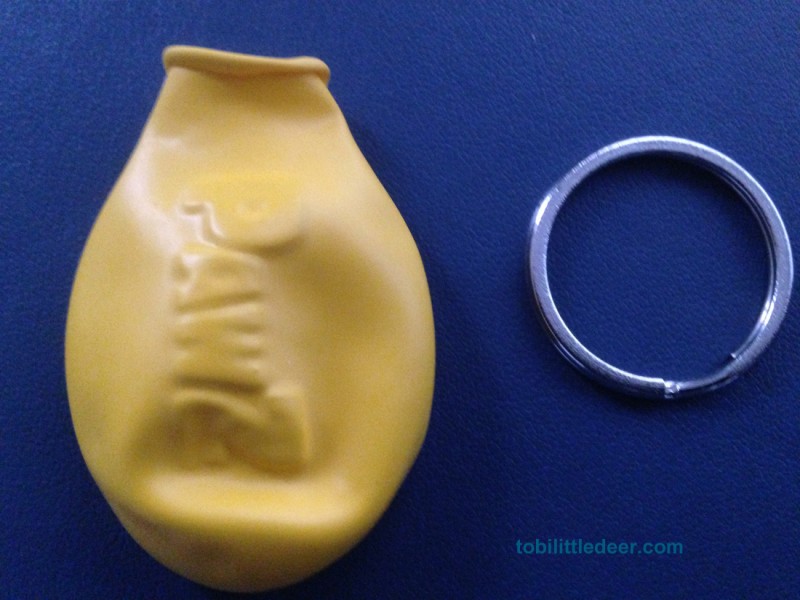 One of the side-effects of Pawz boots being light-weight is that they pierce easily.  The grit on the street soon makes little holes, even microscopic ones, that render them useless in the salty water and slush.  So Ted has to switch me to new boots pretty frequently, but he saves the old ones for when the sidewalks are dry.
The sidewalks don't get cleaned much in New York City in the winter, except if it rains upon them.  So most of the time between snowstorms and between melting, when the sidewalks are dry, they are still covered with dirty-brown dried salt dust.  It doesn't hurt to walk on it bootless, but it makes a mess of a dog's feet, and if it's not bathed off, gets licked off, which is all bad.  So I wear Pawz boots even when the sidewalks are dry in the winter.  However, that's when we can use the older ones that have acquired microscopic holes.  Liquid could penetrate them, but dry dust doesn't; so they keep my feet clean.  Recycling the old boots that way saves a little money. Right after a snowstorm, when there soon can be an inch or more of salty slush on the sidewalk (before the supers get their shoveling done), Ted finds that heavier boots are more effective for me.   My red ones are real boots, from Petco, Pup Crew Fall 12 X-Small Shoes ­­­­­­­­­­­­­­­­­­­­­­­­­­.  They look like miniatures of what people wear, and passers-by think they are very cute (or amusing) when they see four little boots clicking in sync down the street.  They are made of faux red chamois with a white fluffy trim  and have hard, contoured black soles, as if they belong with a Santa outfit.  A white zipper up the front secures an interior elastic around my ankles, so they don't kick off so easily.   I know, because at first I tried (pictured above). When I wear my red boots, Ted walks behind me so he can make sure I don't lose one along the way.  When we encounter another dog, he picks me up to prevent my jump and growl which would send one or more boots flying.  We never take long walks in them.  In front of our building, so I won't lose a boot running up the front steps, Ted picks me up again and carries me inside. On the weather mat inside our apartment front door, Ted removes the boots, the balloon-type Pawz boots by rolling them off my foot down from the top, or the red boots by simply unzipping them, and my feet are dry.  That's the best part. © 2014 Woodwrit, Inc.